Over the course of the next few months our series of guest speakers will be collaborating together to bring you messages from the book of Joshua.
Joshua's Message for Us
Joshua is the model disciple of Moses, a first-generation leader.  Joshua was timid yet obedient. He showed deference yet acted courageously in the hour of trial. Joshua, whose name means "savior," led God's people to physical "rest" in the promised land.
Joshua, along with Caleb, although up in years, nevertheless lived by faith, fought by faith, and finally stood by faith. God greatly rewarded Joshua and all those who followed him. His humble, courageous leadership brought great victory, joy, and blessing to a fickle nation.
Joshua's model of the faith-life stands as a model for us today. We follow Jesus, the Savior of the world. We are in the process of conquering our spiritual foes as we firmly stand by faith watching God provide us a portion of the faith-rest life (Heb. 3:18, 19; 4:6, 11).
Joshua, like Abraham, was justified the moment he believed (Gen.15:6). The land of Canaan was not Abraham's or Joshua's heaven. The land of promise was the Jews from the moment God promised it in Genesis 12. It was their place of communing daily with God. It was their place of "peace and rest" as described in Hebrews for us Christians. The promised land represents the progressive sanctification of the believer. Joshua's battle was the daily fight of living for God, conquering the giants in the promised land. Salvation was his and is ours. It is secure. But the victory of the Christian life, like the land of Canaan, needs to be taken daily by faith. As the promised land was theoretically already Joshua's and the Jewish people's, so we daily, by faith, conquer the giants of our promised victory in the Christian life; daily by faith we are being saved from the power of sin.
With Joshua we proclaim, "as for me and my house, we will serve the LORD." (Joshua 24:15b). Brothers and sisters, we hear God say to us as He did to Joshua: "Be strong and courageous! Do not tremble or be dismayed, for the LORD your God is with you wherever you go." (Joshua 1:9b)  Compare Matthew 28:19-20:  "All authority has been given to Me in heaven and on earth.  Go therefore and make disciples of all nations…and lo, I am with you always."
Introduction to Joshua
I. Book name
Joshua was Moses' appointed successor to lead the people into Canaan
Joshua's name is made up of two Hebrew terms:

YHWH (J plus a vowel)
salvation (Hoshea)

It is the same Hebrew name (cf. Acts 7:45) as Jesus (Matt. 1:21)
II. Literature Type
This is the first book of the Old Testament historical books. (There are 12 historical books in the OT – Joshua, Judges, Ruth, I & 2 Samuel, 1 & 2 Kings, 1 & 2 Chronicles, Ezra, Nehemiah, Esther)
III. Authorship
The author is Joshua, the son of Nun

His name was originally Hoshea ("salvation"), Num. 13:8
Moses changed his name to Joshua ("YHWH" and "salvation"), Num. 13:16; Deut. 32:44

Joshua the man was –

Born in slavery in Egypt
One of the twelve spies (from the tribe of Ephraim cf. Jos. 19:50; 24:30; 1 Chr. 7:27), only he and Caleb brought back a faith report (Num. 14:26-34)
Moses' faithful helper throughout the Exodus experience. The only one who went up Mt. Sinai with Moses (half-way—Exod. 24:13-14)
Commander of the Israeli army (Exod. 17:8-13)
Named Moses' successor in Num. 27:15-23; Deut. 3:18-22; 31:1-8
Led the conquest of Canaan as Moses' successor (Deut. 31:23)
IV. Purpose(s)
The Book of Joshua records how God faithfully brought His chosen people, the Jews, into the promised land of Canaan. God promised to give this land to Abraham and then was reiterated with each succeeding generation down to Joshua.
V. Lessons of this book
God is faithful to His promises to His people (Gen. 12 -50)
God expects faith-obedience and rewards it (Josh. 13, tribes receive inheritance)
God fights for His people (Josh. 24:8)
God punishes disobedience (Achan, Josh. 6)
Believer's personal sins are able to negatively affect others (Achan, Josh. 6)
God provides personal redemption to all who believe (Rahab, Josh. 2:1; 6:25)
VI. Verse of the Book
"If it is disagreeable in your sight to serve the LORD, choose for yourselves today whom you will serve: whether the gods which your fathers served which were beyond the River, or the gods of the Amorites in whose land you are living; but as for me and my house, we will serve the LORD."   Joshua 24:15
If you're more of a visual learner, here is a link to a quick video overview and an image overview.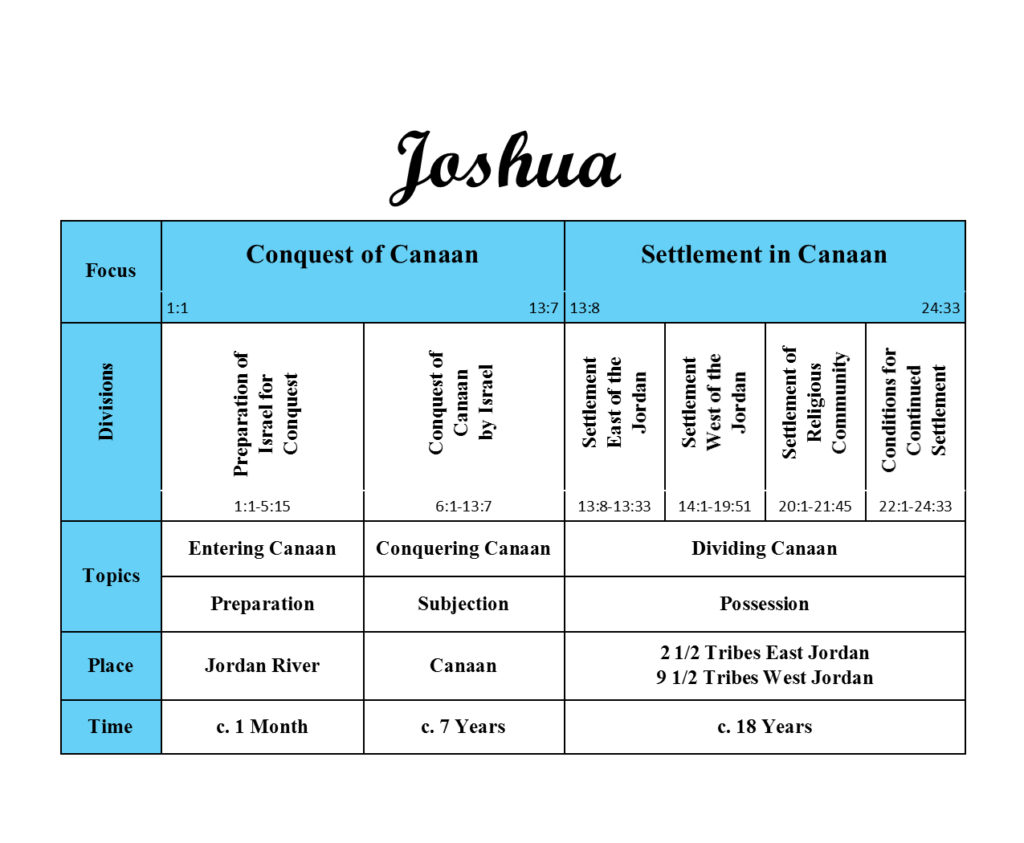 Visual overview of Joshua courtesy of "The Good Life" by Steven Jay Davis